Facilities
Every development and facility at Lower Wood Farm has been carefully planned with young families in mind.
There is plenty to do inside and out for families with tiny tots to teenagers.
Our indoor swimming pool offers all-weather fun on the doorstep and the Play Barn is cleverly designed to combine fun for the under-5s with activities for older children and teenagers while parents relax.

Outdoor Activities
There are plenty of outdoor activities to suit all ages – the play paddock with its slides and football goals, walks and cycle ways across adjoining marshes and our large pond with its collection of ducks and geese.
The warm atmosphere we set out to create means many of our guests have become firm friends after meeting at Lower Wood Farm, returning year after year.

Indoor Heated Swimming Pool
In a bright glass-sided building designed in the style of existing farm buildings, the pool is the "jewel in the crown" of Lower Wood Farm.
With a 31-degree pool temperature, under-floor heating and air-conditioning there is a tropical ambience all year round.
Wide steps ensure safe entry to the 12.5 by 4.5-metre pool.
The changing area has cubicles, a shower, a toilet and baby changing facilities. The swimming pool is unsupervised. You are required to comply with our health and safety rules.

The Play Barn
The Play Barn and guest sun lounge were opened for Easter 2011.
Like the swimming pool, its building is in keeping with the surrounding farm buildings.
Cleverly designed for all ages, at one end of the L-shaped barn under-5s have their own space well equipped with toys, play equipment, games and puzzles.
At a safe distance, older children and teenagers can compete at table tennis, table football and pool.
We've provided comfy sofas for parents to relax, read and chat.
Bi-fold doors open onto the grassed outdoor play area with swings and slide, football pitch, cricket, outdoor play equipment and mini putting green. Our Play Barn has family toilets, with adult and child's toilet, a baby changing unit and a separate disabled toilet.


Catering
Welcome to the catering service offered by Whelan Bespoke Catering to guests of Lower Wood Farm.
We are a local company offering freshly pre-prepared meals delivered to your door for any occasion during your stay. All our dishes are prepared from fresh ingredients by our talented chefs at Branford's Restaurant at the Old Hall Hotel for your enjoyment. All the meals are delivered ready for you to heat and serve at your convenience.
Our service comprises a three-course menu for day-to-day catering that is available for delivery for lunch or dinner, with only 48 hours' notice. The prices for individual meals and family/group deals, plus menu information, are here.
We are also able to cater for larger parties, special occasions and buffets Please do not hesitate to call us on our order line 07877841098 if you need any further details or to place an order. Enquiries can also be dealt with via email at tyrone.harold88@ntlworld.com.

Norfolk Walks and Cycle Ways
Lower Wood Farm has footpaths leading to Mautby, West Caister and through the Norfolk marshes to the River Bure. Wildlife on the marshes includes barn owls, deer, kingfishers, woodpeckers, hawks, ducks and geese and many more. You can access the country lanes for cycling to the local Norfolk villages.

Imagine Spa – luxury on your doorstep
A range of discounted spa treatments are on the doorstep of Lower Wood Farm
Just a hot stone's throw away is the Imagine Spa located at Caister Old Hall Hotel.
Therapists offer a full range of relaxing treatments for the face, body, for women and men – as well as beauty, make-up and spray tan finishing touches.
They include:
Body scrub with mineral salts and silky smooth oil
Body wrap with moisturising cream plus foot and scalp massage
Heated lava stones massage to calm and relax
Raindrop massage with essential oils for the back, spine and legs
Detoxifying and clarifying back treatment with volcanic clay peel
Anti-cellulite firming treatment
Mum-to-be pampering
Finishing Touches
Complement your spa session to leave looking as well as feeling good.
Treatments include:
Refreshing and firming eye treatment
Eyelash and eyebrow tinting
Mini facial
St Tropez spray tan
Manicure and pedicure
For more information or to book directly click here.

My Blissful Retreat – in your cottage
Let a relaxing spa experience come to your holiday cottage.
My Blissful Retreat offers luxury treatments brought to clients' doorsteps -even when they are on holiday.
A fully trained therapist will set up a spa environment with candles and calming music before carrying out your choice of treatment.
That can be
Massage – from aroma massage using a therapeutic blend of essential oils to hot stone full-body bliss
Luxury facials – revitalise and freshen up with combination facials including sensitive skin and organic treatments
Luxury hand and feet treatments – including arm, hand, leg and feet massages and gel polish upgrades
Body scrubs – indulge in a complete body scrub with a body butter treatment to finish
Beauty treatments – including high definition brows and gel polish manicures
For more details of the treatments or to book directly click here.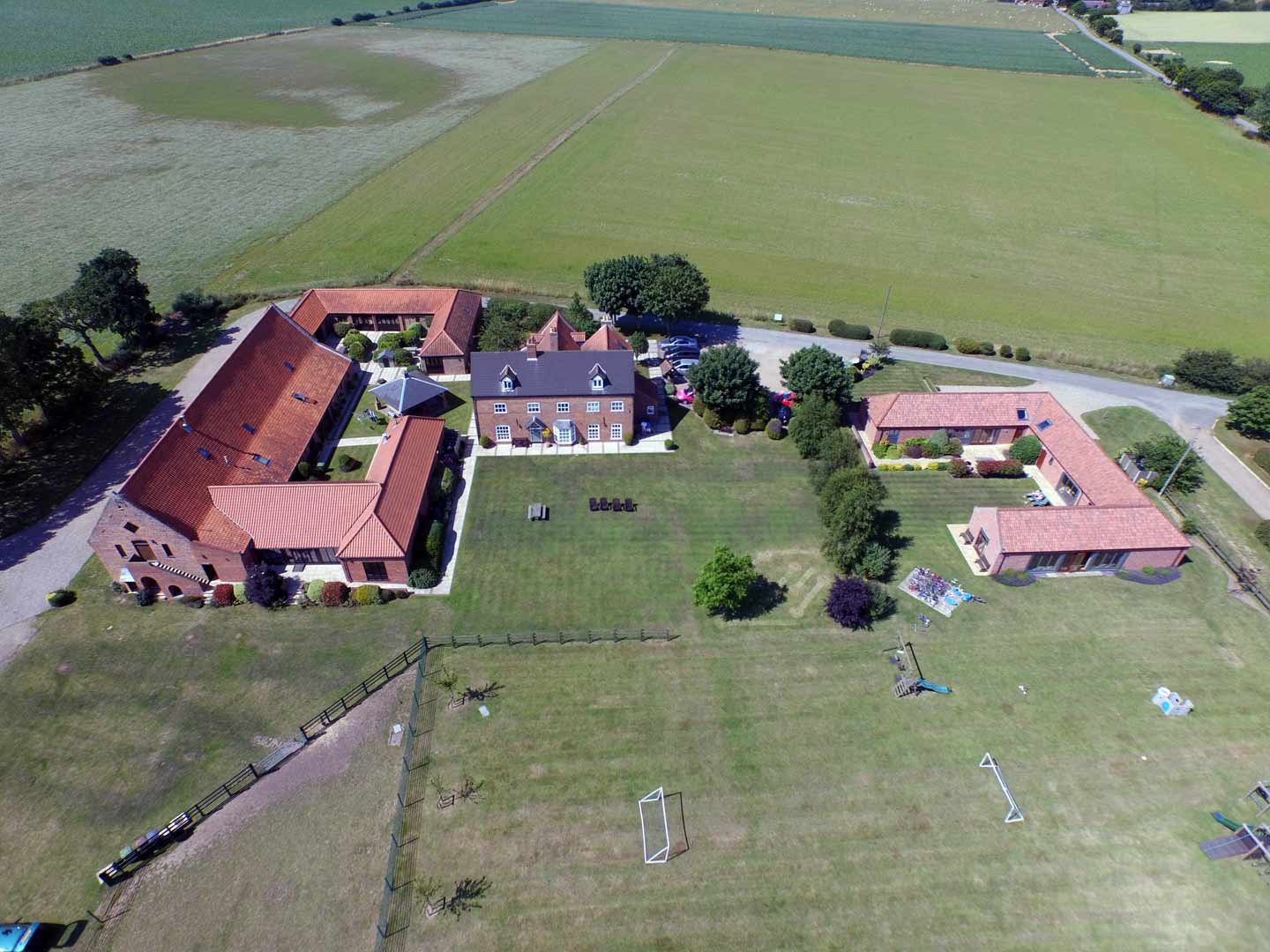 Flyover Video & Site Plan
Explore Lower Wood Farm complex from the air by watching our flyover video or by viewing the site plan below.
View Video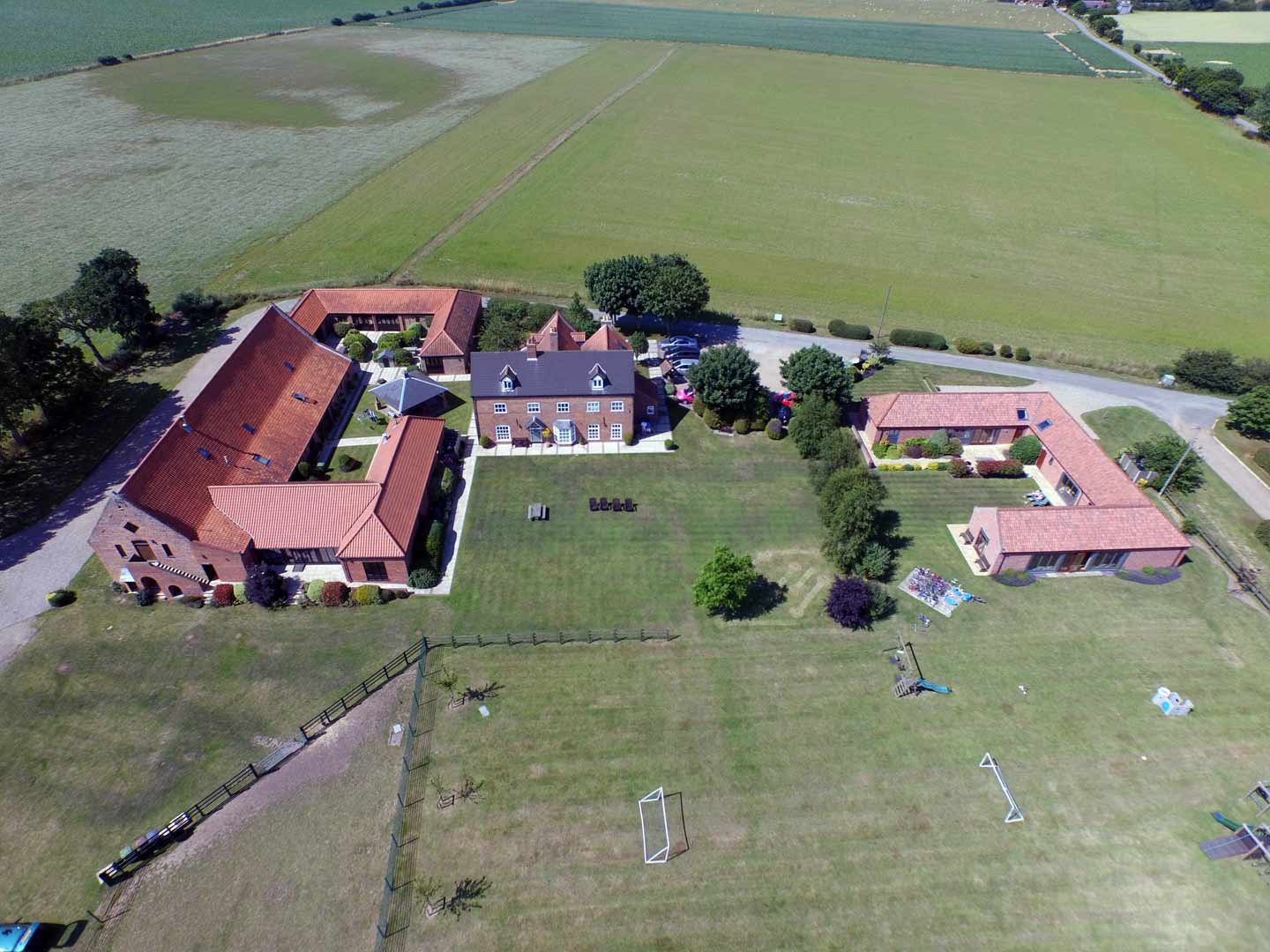 1
2
3
4
5
6
7
8
9
10
11
12
13
14
15
WHAT OUR GUESTS HAVE TO SAY...
"Perfect location for children or adults alike. Play Barn kept our 14 month old Grandson entertained as did the warm heated pool. Perfect. All facilities you need to or a weeks stay. Close the Caister and Gt Yarmouth. Would highly recommend and would return another time.

"
The Farmhouse, 2022-06-13
"Excellent cottage. Spotless with every facility. Site has great amenities for adults and children alike. Loved the pool. Great temperature, depth and sole reservation slots. Cant fault it. Although a non slip bath mat in cottage would have been appreciated for children and elderly. Would definately recommend and consider returning in the future."
The Cottage, 2022-06-25
"We visited with three families for my Mums 70th- it was perfect. There was something for all the children 4-13 and everything had been considered. The swimming pool was a real treat and made the holiday. The barns are at the end of a rural farm road and so the barns were peaceful and very safe. We were able to walk daily to the local farm past the new lambs to buy coffee or fresh milkshakes which was a highlight and a treat when coming back from seeing the seals and the gorgeous beaches!"
The Appleloft, 2022-06-04
"We have been staying in self catering accommodation for over 30 years and we can honestly say this is the best yet! The accommodation is beautifully maintained and the online pictures and videos do not oversell. Jill was very welcoming and I was personally impressed with the small army of ladies she has to help her on changeover days. Having stayed for two weeks, we saw how much care is lavished on this site and I defy anyone to be disappointed in their stay here. We rarely return to somewhere we have stayed but I can see us coming back here again.

A note on the area - fabulous for wildlife (hares, marsh harriers, seals at Horsey Gap, deer a-plenty) as well as the sea and wonderful Broads in easy access.


Perfect - thank you!"
Russet, 2022-06-25
"Lower wood Farm is a beautiful quiet rural location amazingly well cared for and clean. The facilities in the area are fine. The swimming pool is well managed but for elderly people it is very difficult to get into the water through lack of rails and hand holds. This was a pity for us."
Pipkin, 2022-05-26
"We had a very enjoyable stay at Cape Cottage. It was very clean and comfortable. The outside seating area with BBQ is lovely. We also enjoyed the pool, and our granddaughter loved the play room and outside play area. The location is also good, with beautiful sandy beaches just a short drive away. We would love to stay again."
Cape Cottage, 2022-06-25
"Our third visit in three years. Lovely place with amazing facilities for little ones. Always spotless, and very well looked after, across the whole site.
Highly recommend.

Thank you Jill for having us again!"
Bramley, 2022-05-28
"We booked 3 cottages at Lower Wood Farm as we had 8 adults and 7 children ranging from 6 months to 8 years. Lower wood had everything you need in exceptionally clean and safe environment to cater for everything. The pool was superb as you book a time slot per cottage and allowed to all swim together. The play area was childrens heaven with loads of toys, games and books including pool and table tennis plus outside swings, slides and climbing area. We also used one of the BBQ areas a few times and made use of the fresh herbs out of the garden. Location is excellent as only 10 minutes from Caister Beach. Plenty of local pubs, restaurants and farm shops nearby. Excellent break for us all. Many thanks Jill and Team"
Braeburn Barn, 2022-05-24